Jon Jones makes triumphant return to UFC, captures heavyweight title with win over Ciryl Gane
Jon Jones is back on the mountaintop.
In his first UFC fight in three years, Jones moved up a weight class to win the heavyweight title with a first-round submission to Ciryl Gane. He won by guillotine choke at 2:04 to set a dramatic cap at UFC 285 in Las Vegas.
"I'm so excited," Jones said. "I worked for this for a long time. A lot of people thought I wouldn't come back. I stayed true to my purpose, true to my mission."
CLICK HERE FOR MORE SPORTS REPORT ON FOXNEWS.COM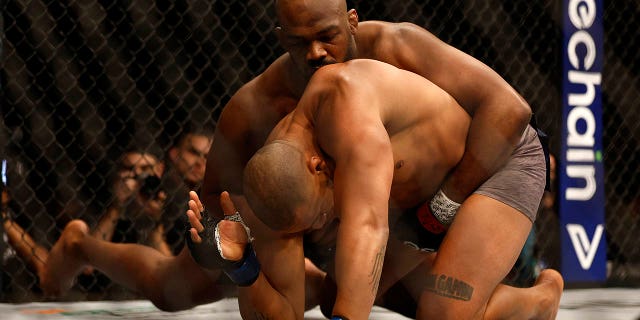 Jones' last fight took place on February 8, 2020, against Dominick Reyes, and he took the necessary time to prepare for a new weight class and a new crop of fighters. He believed the prep time was worth it and hired a team in Albuquerque, New Mexico, to get into optimal shape.
"I had to show up and get (Gane) on the ground," said Jones. "I've been wrestling since I was 12. I feel stronger than ever. Once I had it in my hands I knew I could take control."
UFC president Dana White put Jones' win simply: "Ciryl Gane is a monster. Jon Jones showed up and treated him like a kid."
UFC FIGHTER DUSTIN POIRIER BEATS HECKLER AT MARDI GRAS PARADE OVER SIGN RESPECTIVE WOMAN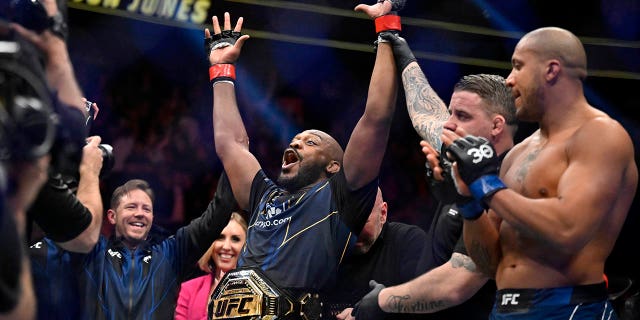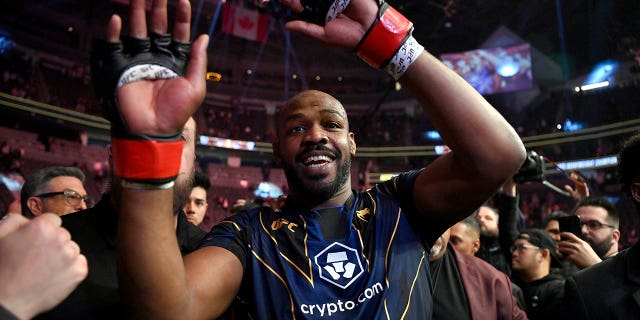 Jones' undefeated streak was extended to 19 and he improved to 27-1 with one no contest. He won a record 13 light heavyweight title fights. He said after the fight that he would like to play Stipe Miocic next. White said the fight will take place, but it's unclear when and where.
Gane fell to 11-2 with the loss.
"This one is so painful," he said. "This one is a lost win. So now this is over, and most of all for what I see is in the future. I'm going straight back to the gym."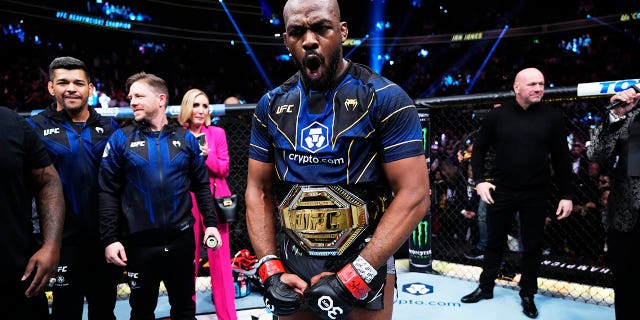 Tom Brady, Mike Evans and Conor McGregor were also in the house for the fight.
CLICK HERE TO GET THE FOX NEWS APP
Jake Gyllenhaal showed up and he shot scenes for the "Road House" reboot.
The Associated Press contributed to this report.